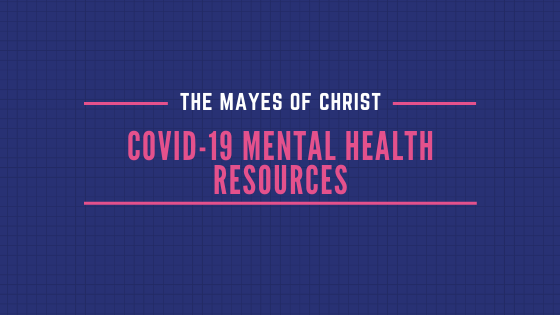 Hello everyone,
If you are anything like me, this last week has been extremely difficult. I have had a number of panic attacks, and have had to work to ground myself in basic truth.
For the moment, I wanted to offer everyone some resources on managing our mental health through the Coronavirus outbreak. Take some time to read through these article and resources. Protecting our mental health and managing a mental illness during this time can be very stressful. Please know that you are not alone, and there are people available to help.
NAMI
Mental Health America
The Grace Alliance
Taking prayer requests on their social media pages
wikiHow
I also recommend watching Barry Jones' message to the Irving Bible Church community on Giving Up Fear this past week. It is a great message that speaks to the heart of the anxiety surrounding the world right now.
Additional mental health resources can be found here.